Funcionamento
Seg à Sex de 8:00 às 17:00
Dental Care in Rio de Janeiro
Dr. Patricia is fluent in English and welcomes patients from all over the world. Her approach to treatment is to meet with each patient individually and provide them with all the information necessary on every aspect of their treatment. This allows them to make the most informed decision before any work begins.
With over 10 years of professional experience, Dra. Patricia (as she is called by her patients), is a well established dentist working in the heart of Rio´s business district.
.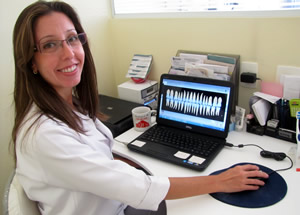 Emergency Dental Care in Rio de Janeiro
Dental emergencies do happen even when you are far away from home. No one is free from a toothache or a broken tooth! But if you are visiting Brazil on business or as a tourist and need emergency dental care, you can get quality dental treatment, at an affordable cost.
If an emergency arises, don´t wait until you go home. Please contact our office – we will be happy to assist you, so you can enjoy your trip or take care of your business with a nice smile!
Family Dental Care
Moved to Rio? Newcomers to Rio de Janeiro seeking a family dentist are welcome to our office, where you will find the highest level of professional dental care in a friendly, clean and safe environment. We take care of patients of all ages.
Dental Treatments Available:
Cosmetic dentistry
Cleanings/Sealants
Periodontal Therapy
Tooth Fillings
Crowns/Bridges
Dentures/Partials
Whitening
Teeth guards
Location
We are located near the "Carioca " subway station. Please see map here.
Business hours
Mondays-Fridays, from 9 am to 6 pm.
Insurance
At the moment we accept the insurance plans listed here. If your insurance is not listed, please let us know and we will do our best to work a payment plan that fits your needs